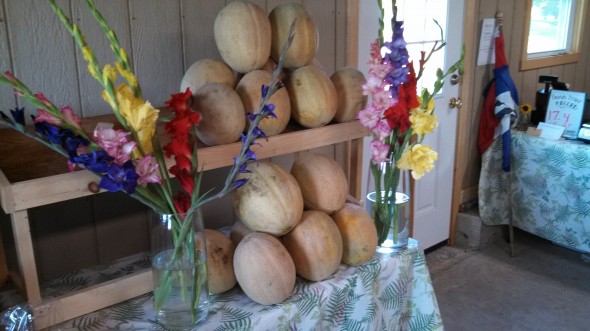 We're overrun with Cantaloupes here on the farm! Come get some at the farm stand for only $4 a piece and try out any of these 5 wonderful cantaloupe-centric recipes.
Cantaloupe Smoothie
1 banana
1/4 ripe ripe cantaloupe, seeded and coarsely chopped
1/2 cup nonfat or low-fat yogurt
2 tablespoons nonfat dry milk
1/2 teaspoon vanilla extract
1- 1/2 tablespoons frozen orange juice concentrate
2 teaspoons honey
Place unpeeled banana in the freezer overnight (or for up to 3 months). Remove banana from the freezer and let it sit until the skin begins to soften, about 2 minutes. Remove the skin with a paring knife. (Don't worry if a little fiber remains.) Cut the banana into chunks; combine in a blender or food processor with cantaloupe, yogurt, dry milk, orange juice, honey and vanilla. Cover and blend until smooth.
---
Cantaloupe Popsicles
1 ripe cantaloupe
½ cup + 1 tablespoon granulated sugar
Slice the cantaloupe in half, remove the seeds and scoop out the meat and place in a blender. Purée until smooth. This should yield about 32 ounces of liquid with a regular-sized cantaloupe. Combine the sugar with about 1 cup of the cantaloupe purée and heat it on the stove over medium heat for just a couple of minutes. Combine this slightly-heated mixture with the rest of the purée. Pour the purée in popsicle molds and freeze.
source: Lemons & Anchovies
---
Cantaloupe Cream Pie
1 cup granulated sugar
2 tablespoons flour
3 eggs, beaten
1 cup cantaloupe
1 teaspoon vanilla extract
2 tablespoons unsalted butter
1 8″ pastry shell, baked
1 cup whipping cream
Combine the sugar and flour in a saucepan; add eggs, use a whisk to mix well. Puree the cantaloupe in a blender. You should get about 2/3 cup of puree from one cup of chopped cantaloupe. Add the puree to the egg mixture and whisk to combine.
Cook over medium heat, stirring constantly with a wooden spoon, the mixture will begin thickening rather quickly. Cook until mixture boils and thickens, about 8 to 10 minutes. Remove from heat, add the vanilla and butter, stir until smooth.
Place custard into a bowl and allow it to cool. While custard is cooling, bake pastry shell and set aside to cool.
Put the custard into the baked shell. Using the whisk attachment, beat the whipping cream on high speed until stiff peaks form; spread evenly over top of custard. Allow pie to set in refrigerator overnight for best results.
source: Amanda's Cookin
---
Shaved Fennel and Cantaloupe Salad
1/2 teaspoon lemon zest
2 tablespoons lemon juice
2 tablespoons olive oil
1 teaspoon honey
kosher salt and freshly ground black pepper
1 medium fennel bulb, stalks & core removed, sliced very thin
1/2 medium cantaloupe, peeled, sliced thin
1 jalapeño, sliced thin
1/4 cup chopped mint leaves
feta cheese, to crumble on top
In a small bowl combine the lemon zest and juice, olive oil and honey. Season with salt and pepper to taste.
In a larger bowl, lightly toss together the fennel, cantaloupe, jalapeño and mint. Add the salad dressing and toss to combine. Top with feta cheese.
source: Kitchenette
---
Cantaloupe Skewers
1 cantaloupe
2 fresh mozzarella balls
20 fresh basil leaves
1 can dried tomatoes
5 tablespoons olive oil
2 tablespoons apple cider vinegar
Salt
Make small melon balls with the help of an ice cream scooper or spoon. Do not waste the melon juice, which we will use for the vinaigrette. Cut the mozzarella into cubes and set aside. Chop the basil and dried tomatoes. Add in a bowl with the oil, vinegar, melon juice and salt – mix well to create the vinaigrette. Assemble the skewers with Cantaloupe balls and mozzarella interspersed. Before serving pour the vinaigrette over the skewers.
source: Amapola, el Mundo en Unplato